About
"The Ninja International Kindergarten in the Land of White Goats is where kids trying to become the world's best ninjas go to school.
Ninja Bear is aiming to become the master of the food chain or, in short, a master ninja! He's training night and day.
Other colorful and unique characters like Hige-chan, Bunnie Antoinette, Ham Rock Star, and Usawan are classmates at the school. No challenge is too great for these cool guys!
Enjoy their carefree and mischievous life at the Ninja Kindergarten!

And yet...wars created by adults seem to continue in every era.
The Land of White Goats and the Land of Black Goats are in an all-out war over paper, a valuable resource for the goat kingdoms.
How long will this seemingly endless struggle continue? What does fate have in store for Ninja Bear and his friends?"

Characters
Ninja Bear
Naughty, light-minded, frivolous and touble-maker but lovable boy. When he gets a headache from eating ice cream, he becomes wild and is driven by a compulsion to eat Hige-Chan. His weapon is a Japanese Kendama, and everyday, he is busy developing weapons to to defeat all.
Hige-Chan
The partner of Ninja-Bear. This character does not let emotion show but whenever he becomes emotional, the beard increases. He is mostly screwed with Ninja bear. His weapon is a super ball hidden in roots of hair.
Bunny Antoinette
A girl, who is boyish, fashionable, rich and heroine. She has a compact weapon called "Yo-Yo".
Kunoichi Nyan (Female Ninja)
The school nurse. Uses sensuality as a weapon. Skilled at secrecy and stealth.
When angry, her tail and scarf whip about.
She has a sharp way with words. An advanced ninja. It's unconfirmed, but rumors say she's female.
Ham Rock Star
Though small, he has the soul of a rockstar. The desk is his stage, and he's always rocking and rolling. His shuriken guitar doubles as a weapon.
Contents
Sticker Pack Vol.1


Ninja Bear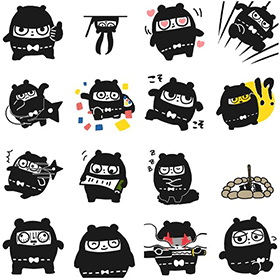 Facebook Messenger Now on sale
The number of download has acrossed 70million worldwide!

Zalo Now on sale
The pack is available on Zalo which is the No.1 Chat app in Vietam
Sticker Pack Vol.2


Ninja Bear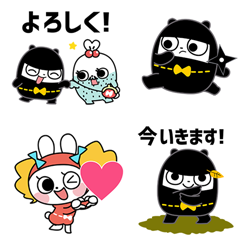 New sticker pack with Ninja Bear's friends!

Wechat Now on sale
Sticker Store China's No.1 Chat Application

T-shirt,cap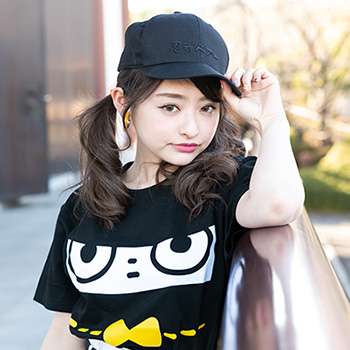 Plushies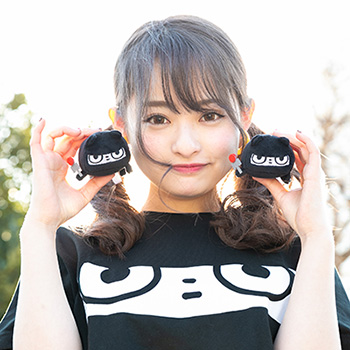 Concepts/Production
Concepts
The number of foreign tourists visiting Japan has been increasing dramatically in past couple years. We estimate that the number will continue increase till the next Olympic in Tokyo 2020.
Our main objective is to create a character which can gain huge awareness in overseas in order to attract more of the tourists by the character.
Therefore, we have created Ninja Bear.
Ninja Bear has already been popular in overseas as sticker contents on SNS platforms, it has achieved more than 70 million downloads so far.
We strongly believe that the mixture of Ninja and Bear can become The character with high potential to become the big hit in the world.

Production Companies
Project Manager
TV Tokyo Communications
Inter net business company of TV Tokyo Group.
It also working on famous characters such as, Snoopy and Kanahei.
Original creator (Sticker) /
Oversea Distribution
Quan Inc.
It creates and distributes sticker contents for several world famous SNS platforms. The company has successfully achieved 1.4 billion sticker pack downloads globally. It also runs a character business mainly in China and South East Asian countries.


Animation prodcution /
Character development
KOO-KI
International creative team in Fukuoka Japan, which is also known for it has produced a PR video has been screened at the IOC final presentation of the 2020 Tokyo Olypic PR activity.